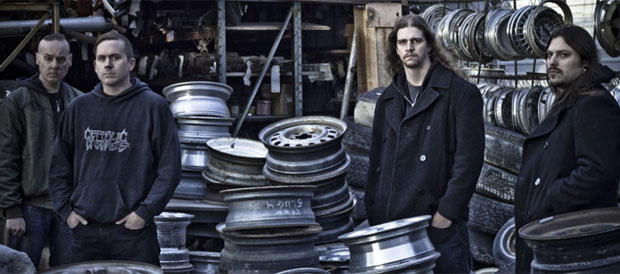 Los estadounidenses CATTLE DECAPITATION editarán a través de Metal Blade su nuevo disco, "The Anthropocene Extinction", el 7 de agosto de 2015. El álbum ha sido grabado por Dave Otero, quien ya se encargó del anterior álbum de la banda, "Monolith Of Inhumanity", en 2012. Para ello la banda de Death-Grind ha trabajado de nuevo en el estudio Flatline Audio de Denver, Colorado.
CATTLE DECAPITATION ha contado con varios invitados en "The Anthropocene Extinction". En primer lugar Phil Anselmo (DOWN, ex PANTERA) ha prestado su voz a la canción "The Prophets Of Loss"; Tristan Shone (Author & Punisher) ha puesto al servicio de la canción "Plagueborne" una intro industrial; y además, Jurgen Bartsch de BETHLEHEM, ha grabado una pieza vocal en alemán para el último tema, "Pacific Grim".
El tema de "The Anthropocene Extinction" gira, como muestra metafóricamente la portada, sobre la muerte de aves marinas y otros animales por confundir desechos de plástico producidos por el hombre con comida, lo que destruye los ecosistemas de los océanos. "La isla de plástico del Pacífico es sólo parte del problema Hay cinco grandes giros oceánicos en el planeta Tierra y todos se están llenando con residuos de plástico, sobrepasando al plancton, vital para los ecosistemas oceánicos. La ruptura de los ecosistemas de la Tierra empezó hace mucho debido a la interacción humana, así como al efecto dominó que seguramente sellará el destino de nuestra especie".
El primer single de "The Anthropocene Extinction" es la canción "Manufactured Extinct":
A continuación podéis ver las canciones y la portada de "The Anthropocene Extinction", obra realizada por el artista habitual de CATTLE DECAPITATION, Wes Benscoter:
1. Manufactured Extinct
2. The Prophets Of Loss
3. Plagueborne
4. Clandestine Ways (Krokodil Rot)
5. Circo Inhumanitas
6. The Burden Of Seven Billion
7. Mammals In Babylon
8. Mutual Assured Destruction
9. Not Suitable For Life
10. Apex Blasphemy
11. Ave Exitium
12. Pacific Grim