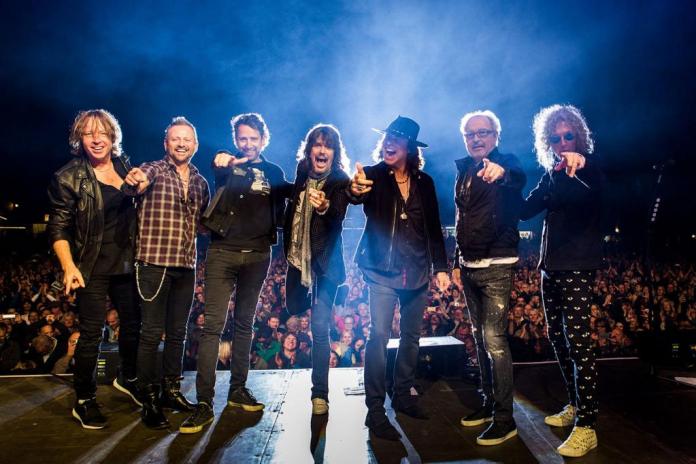 Los estadounidenses FOREIGNER, cuya presencia en Rock Fest Barcelona 2021 ha sido confirmada, han anunciado otro concierto en nuestro país, concretamente en Palma de Mallorca.
La cita será en junio de 2021 en el Coliseo Balear. Estos son los detalles de la fecha:
FOREIGNER - Concierto en Palma de Mallorca
30 de junio de 2021 - Palma de Mallorca (Coliseo Balear)
Classic Rock Night with FOREIGNER, celebrando 50 años de amor, vida y música.
Entradas a la venta en Eventopoli.com.
"40 - Forty Hits From Forty Years"
FOREIGNER editó en 2017 "40 - Forty Hits From Forty Years", un álbum que conmemora su 40º aniversario. El disco recopila cuarenta grandes éxitos de toda su carrera, grabados entre 1977 y 2017, remasterizados para la ocasión.
"Después de su debut homónimo en 1977, FOREIGNER siguió grabando algunos de los himnos del Rock más perdurables -"Juke Box Hero" y "Hot Blooded"-, así como el número 1 "I Want To Know What Love Is". El grupo tiene diez discos multiplatino y es una de las bandas que más discos ha vendido de todos los tiempos, con más de 75 millones de copias vendidas.

"40" reúne las mejores canciones de los nueve discos de estudio de FOREIGNER, entre ellas 16 de sus 30 hits: "Feels Like The First Time", "Cold As Ice", "Waiting For A Girl Like You" y más. Esta colección incluye "Too Late" de la retrospectiva de 2008 "No End In Sight" y "The Flame Still Burns", la canción que daba nombre al EP lanzado el año pasado, haciendo su debut en CD en este recopilatorio. Todas las grabaciones anteriores han sido remasterizadas y el disco presenta dos nuevas canciones grabadas especialmente para este lanzamiento, "Give My Life For Love" y una nueva versión de "I Don't Want To Live Without You".

El primer disco cubre los primeros cinco discos de FOREIGNER: "Foreigner" (1977), "Double Vision" (1978), "Head Games" (1979), "4" (1981) y "Agent Provocateur" (1984). Las 21 pistas incluyen algunos de los mayores hits del grupo ("Urgent" y "Feels Like The First Time") así como cortes más profundos como "Luanne" y "Women". El segundo presenta canciones de "Inside Information" (1987), "Unusual Heat" (1991), "Mr. Moonlight" (1994) y "Can't Slow Down" (2009), y contiene "Rain", "When It Comes To Love" y "Heart Turns To Stone".
Más sobre FOREIGNER en su Facebook.