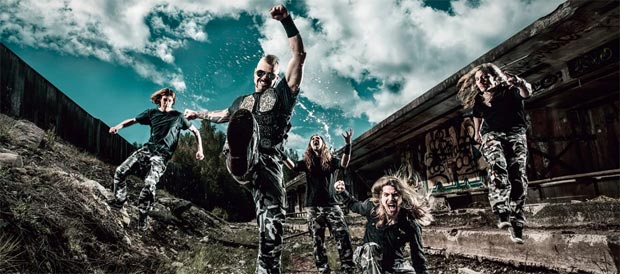 La organización del festival francés Hellfest ha anunciado las nuevas bandas que se incorporan al cartel de su edición de 2014. Los nuevos grupos anunciados son: SABATON, EXTREME, DOYLE AIRENCE, BRUTAL TRUTH, MERCYLESS, CARNAL LUST, AZZIARD, BLACK TUSK y, en sustitución a WHILE SHE SLEEPS, que se cae del cartel, MISS MAY I.
Os recordamos la distribución por días y escenarios del festival Hellfest 2014, que se celebrará los días 20, 21 y 22 de junio de 2014 en Clisson, Francia:
Viernes 20 de junio
Mainstage 1: IRON MAIDEN, ROB ZOMBIE, QUEENSRYCHE, THERAPY!, SATAN, CROSSFAITH Y NIGHTMARE.
Mainstage 2: SLAYER, TRIVIUM, SEPULTURA, DEATH ANGEL, MOD, TOXIC HOLOCAUST, FUELED BY FIRE, ANGELUS APATRIDA .
The Altar: DEATH, KATAKLYSM, SEPTIC FLESH, THE CHURCH OF PUNGENT STENCH, NOCTURNUS AD, LOUDBLAST, BLOCKHEADS, KRONDS.
The Temple: WATAIN, ENSLAVED, TURISAS, IMPALED NAZARENE, DESTROYER 666, GEHENNA, IMPLYTE, NECROBLOOD.
The Valley: ELECTRIC WIZARD, GODFLESH, KYLESA, KADAVAR, ROYAL THUNDER, DOWNFALL OF GAIIA, CASPIAN, CONAN, MARS RED SKY.
The Warzone: WALLS OF JERICHO, PRO PAIN, DOWNSET, SLAPSHOT, DEFEATER, FIRST BLOOD, BRUTALITY WILL PREVAIL, STICK YOUR GUNS.
Sábado 21 de junio
Mainstage 1: AEROSMITH, DEEP PURPLE, STATUS QUO, SKID ROW, BUCKCHERRY, WALKING PAPERS, LEZ ZEPPELIN, KILLERS.
Mainstage 2: AVENGED SEVENFOLD, SOULFLY, HATEBREED, DAGOBA, WE CAME AS ROMANS, WHILE SHE SLEEPS, OF MICE AND MEN, DARKNESS DYNAMITE.
The Altar: CARCASS, NILE, GORGUTS, HAIL OF BULLETS, INCANTATION, SUPURATION, WEEKEND NACHO'S, BENIGHTED.
The Temple: GORGOROTH, ELUVEITIE, TSJUDER, SHINING, MGLA, GEHENNA, TROLLFEST Y TEMPLE OF BAAL.
The Valley: MONSTER MAGNET, CLUTCH, PHIL ANSELMO AND THE ILLEGALS, ACID KING, WITCH MOUNTAIN, SUBROSA, SAVIOURS, HERDER, HARK.
The Warzone: MILLENCOLLIN, COMEBACK KID, 7 SECONDS, BL'AST !, MISCONDUCT, BURNING HEADS, AYS.
Domingo 22 de junio
Mainstage 1: BLACK SABBATH, SOUNDGARDEN, MEGADETH, ALTER BRIDGE, SEETHER, CROWBAR, LOFOFORA, BLUE PILLS.
Mainstage 2: EMPEROR, ICED EARTH, BEHEMOTH, ANNIHILATOR, ANGRA, POWERWOLF, IN SOLITUDE, SCORPION CHILD, YEAR OF THE GOAT.
The Altar: OPETH, PARADISE LOST, SOILWORK, THE BLACK DALHIA MURDER, UNLEASHED, REPULSION, ULCERATE, OBLITERATION.
The Temple: Vreid Sognametal, 1349, Solstafir, Equilibrium, Urfaust, Dordeduh y The Ruins Of Beverast .
The Valley: UNIDA, SPIRIT CARAVAN, DOZER, HOUSE OF BROKEN PROMISES, LOWRIDER, ZODIAC, SATAN'S SATYRS, WATERTANK.
The Warzone: TURBONEGRO, FLOGGIN MOLLY, MISFITS, MAD SIN, LAST RESORT, THE BONES Y TAGADA JONES, CRUSHING CASPARS.
Más información en la web del festival: www.hellfest.fr